Welcome to MK Furnishings 
Choose from the Categories below
Check out
the latest range of Double & Single beds
Check out the latest range of themed beds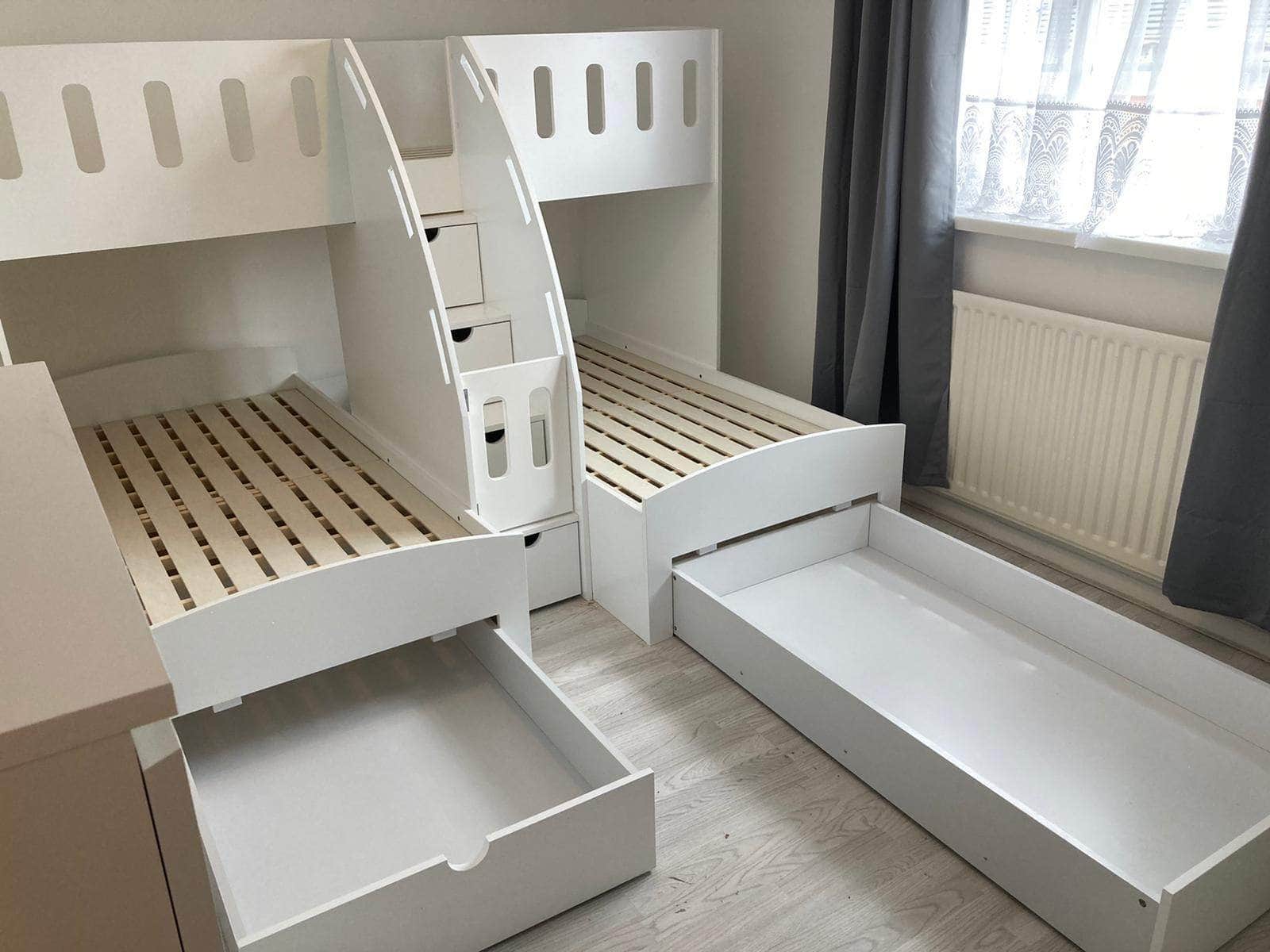 Check out the latest Triple Sleepers
WELCOME TO MK FURNISHINGS
Are you planning to decorate your kids bedroom? Well the most important part of any kids bedroom is their bed. Here at MK Furnishings, we offer numerous beautiful options to help you choose the best bed for your kids.
CONVENIENCE BUILDING EASY FOR YOUR LIVES:
A bed is a special feature of any bedroom. We feel our beds help create a great emotional attachment and how could it not? They're perfect for your kids, helping to create many great memories such as sleepovers with friends. That's why we offer solid, safe, and efficient options to ensure your child gets the highest comfort, while feeling safe and secure. We provide many different styles of bed meaning you receive a bed that will perfectly suit your needs and style.
We offer many different options for your kids beds, all made to a high quality and designed to fulfill your child's dreams. We design, make, deliver and assemble all of our beds, meaning we offer the whole package, making life for you even easier!
We pride ourselves on being a family run business, offering great bedroom solutions for other families like yours. We pay attention to detail, offering a complete service and ensure  we offer the highest quality of beds at reasonable prices.
Bunk beds have always been an excellent solution for children's rooms, but getting a high quality bed is important to ensure you will have furniture that lasts a long time. This is the reason why people rely on MK products , we offer state-of-the-art beds like Bespoke kids beds with slides, double and single bunk beds with stairs and triple sleepers.
Our commitment to total satisfaction has been one of the main reasons why we have become a favorite place to buy for anyone who needs their children's beds.
Bunk Beds with Stairs and Drawers:
Our bunk beds come with stairs, which include storage drawers in them. For various reasons, we feel this makes the designs of our beds superior. For safety reasons, walking down a set of stairs, with a handrail and a large surface area for feet, is a lot safer than climbing backwards back down a ladder which you would have on a traditional bunk bed.
As well as being safer, having the storage drawers in the stairs allows for use of the space that isn't being used below the stairs. This ensures you maximize the maximum amount of space in your child's room.
We know what you want and we always bring it:
With years of experience making various styles and layouts of beds, we have grown to learn what different things customers need and want. This is why we offer a variety of simple and beautiful beds for your child's room, that offer great comfort for your children at bedtime. These beds are available with customizable colours for drawer fronts, to match any children's room. They are sturdy due to the high quality of the construction, ensuring a high level of safety.
The wide range of beds provided by MK furnishings will surely delight any parent looking for a creative space for their children. The various design styles within each category on our website,  offer many choices and variations, while the large selection of colors will help you choose the perfect bed room for your kids.
Stairs for bunk beds have become one of the most popular choices for bedroom sleeping arrangements and it's easy to see why. Luckily, with our range of beds, you're sure to find the perfect bedroom for your kids.
Our team is here to help:
Our team is made up of various experienced joiners, fitters and designers. Most importantly, we're a small family run business, and our employees are parents too. This means we are creating products for parents and kids, by parents.  We understand the importance of safety, longevity and style, and as a team, this is what we bring you, at affordable prices.
We are here to help you with anything you need regarding your child's bed.
Bespoke kids beds
We have an excellent list of beds available, from double bunks, triple sleepers or quad beds. These can be then customised to suit your room and style
Delivery & Assembly Available
Sit back and let MK Furnishings do the complete job, from your first order, to designing, creation, delivering and assembling your dream bed. We do it all with our own team of fitters.
UK & Ireland Based, here for you.
We are based in Northern Ireland. Meaning we can offer our products to customers all over the UK and Ireland.