Welcome to MK Furnishings 
Choose from the Categories below
Double

&

Single bunk Beds
Check out
the latest range of Double & Single beds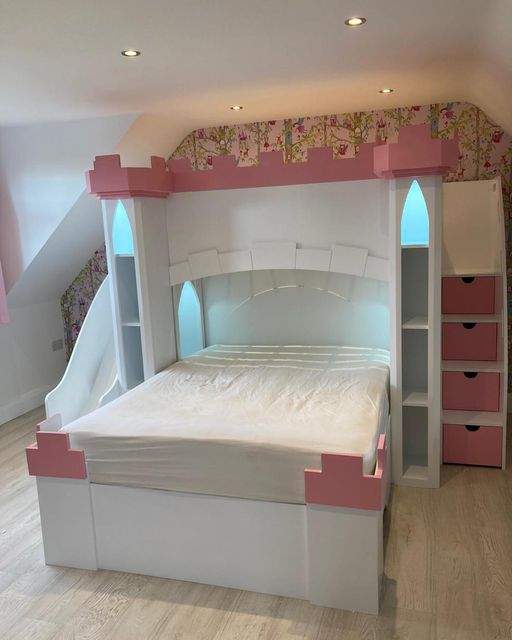 Check out the latest range of themed beds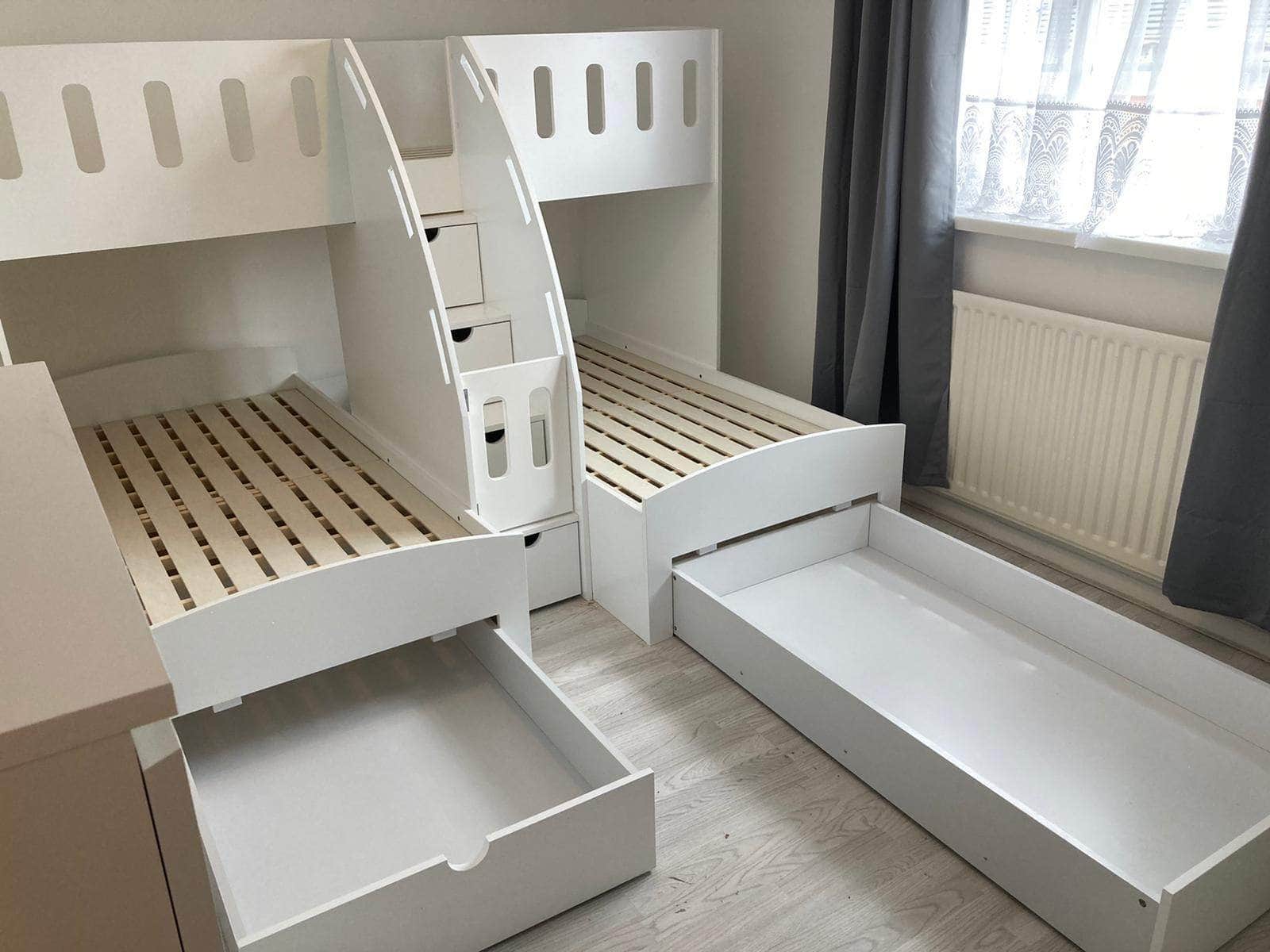 Check out the latest Triple Sleepers
MK Furnishings
Exquisitely crafted beds are now just one click away! 
You know what they say, happy beds, and happy kids!
MK Furnishings is a small-town business that has come upon the surface to take care of your family. Our business is also termed as a family business because we treat all of our customers like family. As we are a small business right now, we only deliver to Ireland and the United Kingdom but we surely going to expand in some time.
MK Furnishings brings you a vast variety of bespoke bunk beds that will leave everyone awestruck. Your kids' safety is as important to us as it is to you. We always pound ourselves in building the best Funtime beds for our kids. MK Furnishings uses the finest of materials to create these beds and slats. Our designs are breathtaking, the color combination is unparalleled, and the comfort, oh! You'll get to know as soon as your head meets the pillow.
It'll take no time to make these beds be your kid's favorite place in the entire house. If your child goes missing, be sure to look under the duvets!
Links of the Fun Kids Beds
Now, comes the most exciting part where you will get all your kids Funtime beds in just one click. To make it easier, we categorized every quad bunk bed for you.
When you'll click on this link, you'll reveal a lot of bespoke children's beds. These beds will certainly give you a homely feel. There will be bunk beds with stairs, bunk beds with steps, deluxe high sleeper bed, Storage Kensington Bunk beds with slide, and much more. All of these children's bunk beds come with something new. One will contain a slide while another has in-built stairs. These beds will surely give your kid the best experience. These fun kids bunk beds will leave you awestruck, we are sure of that.
If you want to see what they look like, please, click on the following links.
Kids Bunk Beds with Slides
Turn your kid's bedroom into a play area by buying these low bunk beds with slides. This category contains two types namely; storage Kensington bunk bed slide, and storage Kensington bunk bed with slide. Now, you may be thinking that they have the same names so they are alike. But there is a massive difference between their design, layout, and colors. Quality, however, remains the same i.e., top-notch.
Most of the parents get worried after hearing the word, stairs. MK Furnishings has taken all of your concerns into account. We are ready to install protective guard rails on the stairs to prevent any chance of your kid falling from the stairs.
Check out our storage bunk beds for boys and girls.
In today's times, having a single ordinary bed won't do. You will have to spark up your kid's room with something new, modern, and innovative. But where can you find the funk and the affordability put together? Here, at MK Furnishings. We provide style and design at very affordable prices. But why a low bunk bed? This is because if you have more than one kid, these fun kids beds will provide enough space for them to fit in.
Even if you have a single kid, you must opt for a cool bunk bed because you can't stop them from having a slumber party, right? Therefore, these bunk beds can be the right choice for you and your kids.
Have a look at our fun bunk beds:
Batman, butterflies, or whatnot? MK Furnishings provide the trendiest and grooviest cabin bunk beds for your kids. These cabin beds tend to create their own personal space where they can be whatever they want to be whether it is batman or a Barbie. Instead of running all around the house all day, your little monsters may get confined within their bedroom. All because of these cool and fun cabin beds with stairs.
Turn your wild imagination into reality at MK Furnishings. Give words to your thoughts and we will create that. That is why custom made bunk beds of MK Furnishings are the buzzword of the town. If you want to add a cot rail, we'll add that. If you want to attach a long shelf, we'll attach that. If you want to remove a desk, consider it gone.
If you want a mixture of colors, you got it. If you want it monochromic, you won't have to say it twice. That, my friend, is the essence of custom kids beds. Also, it is up to you whether you want a slide or steps to go with these custom bunk beds.
If you are having trouble deciding the design, check out our collection:
Kids Double and Single Bunk Beds
Are you tired of constantly trying to keep your house clean from the junk your little monsters leave here and there? Are you also dealing with the more stuff less room problem? We've got you. Nowadays, the first and foremost choice of the parents is the double and single bunk beds.
This is because not only do they save a lot of floor space but they also tend to provide large storage areas. Now, you don't have to wreck yourself up by thinking about where to put these mount of clothes now. You have got lots of drawers.
These double and single beds also come quite in handy when you have your kid's friends are sleeping over. A single bunk bed can be transformed into a double funky bunk bed providing more area for the kids to sleep on. The comfort remains the same.
Undoubtedly, it has become quite difficult to find the one bunk bed that has all the necessary benefits. The high sleeper beds of MK Furnishings fulfill every expectation of the parent. We provide everything that a parent is looking for. From comfort to fun, everything is just a click away. We, as a family business, know the major concerns of the parents. That is why we tackle each one of them quite professionally.
Therefore, you won't have to worry about the quality of these high sleepers because it has certainly outclassed. These high and mid sleeper bunk beds come with a lot of supplements. It is up to you to decide which one you want or which one shouldn't be discussed again.
To have a clear idea, visit the links below:
Ready to have sleepovers quite more often than before. These L-shaped cool bunk beds will squeeze in a lot more of the little monsters than an ordinary bed. All of the kids can gather around and tell each other ghost stories while having the best time of their lives. These fun kids bunk beds can help you connect with your kid like never before. Although who shall get the top bed must be put to vote.
Kids L-shaped Bunk beds come with all types of accessories, a slide, stairs, long shelf, cot rail, guard rails, drawers, stair-gate, etc.
Visit the links below to know more about these quadruple bunk beds.
Instead of running around all over the house, your kids will run around all over their room. All of this can be made possible by these kids playhouse beds. Your kids can step up to their deluxe play area or slide down. It solely depends upon whether you want a slide or stairs to go with these beds. Apart from these, these playhouse beds are the most fun way to keep your little monsters engaged. Throw in some props and there you go! You will have a little play in your house every day!
If you're looking for a bed for your single kid then you find what makes him/her happy. If you have two kids then you search for those beds that keep them together and happy. But if you have three little monsters, you just find that bed that will keep them in the same room. Even then, parents don't compromise on the quality of the beds. That's how we came up with kids triple bunk beds. These built-in bunk beds are not only enough to keep your kids together but it also provides enough area to let them have their personal space.
Other than this, triple bunk beds are the best choice if you often have your kids' friends over. Other than that, triple bunk beds provide an immense amount of storage space to the parents. This storage space can be used to put all of your kid's belongings such as clothes, books, toys, etc.
Look at our triple bunk beds collection and know more about them.
This is where the excitement of the kids kicks in. Because these beds can make your kids whatever they want to be. A king, queen, prince, princess, knight, or fighter, all depends on your kid. Themed bunk beds provide you an optimum opportunity to give a surprise to your kid. If your kid is acting more like a batman then you can get him a cabin bed with stairs.
On the other hand, if your little baby girl is considering herself a princess, you can ask us to devise a princess bunk bed. You just have to click here and there and you will get yourself a themed bunk bed. It includes all the other supplements that are necessary to design a complete Funtime bed.
If you want to explore some of your options then check out our themed bunk beds collection.
Explore our categories. Add your favorite items to the cart. We assure you, it's all going to be worth your while.
Payment Policy
What is the second thing that everybody looks at after the bed? The price! MK Furnishings help its customers a lot when it comes to payment. At MK Furnishings, we use Klarna as a payment option. It's okay if you don't know what Klarna is, we'll clear out everything for you. Klarna is the kind of payment option that will help you to buy as many services and goods as you like. The advantage here is that you won't have to make the full payment right away. Instead, you can spread the cost to almost 30 days. It is kind of an installment. You can acquire a total of four installments in this time period.
Now, we are going to tell you how you can use it. When you are at the checkout, click the option containing Klarna. Select the deposit along with the installment plan. Then you will be subjected to complete a 60-second application form. Once you receive the confirmation, all your items will be on their way. If you want to know about all your payments and purchases, you will have to log in to the account. With that, you'll be all set to go. If you are still vague about something then please, click on this link to get a clear idea.
Who would have thought getting funky bunk beds would be that easy?
Why Should You Choose Klarna?
If your pockets are deep then you can choose any option. But we want to put a minimum amount of burden on our customers. That is why we came up with Klarna as our payment option. There are about five most important reasons to use this payment method and these are:
It has low rates of interest
It is a highly friendly and flexible finance
You can for this finance without wreaking your credit
It has high rates of acceptance
Whatever period you choose, it will be interest-free
Customer Service Experience
Have the best customer service experience here at MK Furnishings.
Taking care of the kids by making exceptional and cool bunk beds is one thing but taking care of our customers is a whole lot more. Dealing with the questions and queries, handling out the procedural issues, presence of the support agent, everything is under control at MK Furnishings. When you need something to know or have a query, you will find our employee, ready to help you. No matter if it's 4 in the morning or 2 in the afternoon, we'll be delighted to help you.
All of our employees are trained in providing the best customer service experience to our customers. Our employees have the finest communication skills. All of our customers are happy with our services and we hope that you will be too.
Why Choose Us?
We make the designs that will leave you awestruck. The delicacy, the charm, the professionalism, the price, everything is unparalleled.
This is what all of you may be thinking as of now. There are numerous bespoke kids beds available online then why should you opt for MK Furnishings? This is what we are going to delve right into.
Exquisite Designs
From princess bunk beds to themed bunk beds, everything is available at MK Furnishings. The layout of the beds, the adjustment of the drawers, and the merging of the desk or shelves, everything is designed out perfectly and delicately. MK furnishings is also experienced in manufacturing custom bunk beds according to your choice.
Highly Affordable
We don't want to put much burden on our customers. That is why we provide them with the best payment options. The prices, in general, are not that high which insinuates that we want what's best for our customers and their little monsters.
A Team full of Professionals
Only a professional knows how to get a job done and MK Furnishings is full of professionals. You have to do only one thing, order. The rest will be taken care of. From designing to assembling your bed, our team is ready to be at your service.
Take a good look at our collection and decide for yourself. It will certainly be a hit.
Bespoke kids beds
We have an excellent list of beds available, from double bunks, triple sleepers or quad beds. These can be then customised to suit your room and style
Delivery & Assembly Available
Sit back and let MK Furnishings do the complete job, from your first order, to designing, creation, delivering and assembling your dream bed. We do it all with our own team of fitters.
UK & Ireland Based, here for you.
We are based in Northern Ireland. Meaning we can offer our products to customers all over the UK and Ireland.