Welcome to MK Furnishings 
Choose from the Categories below
Double

&

Single bunk Beds
Check out
the latest range of Double & Single beds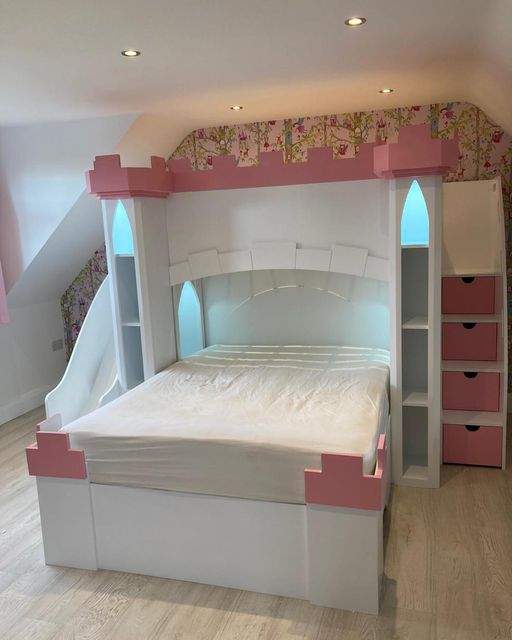 Check out the latest range of themed beds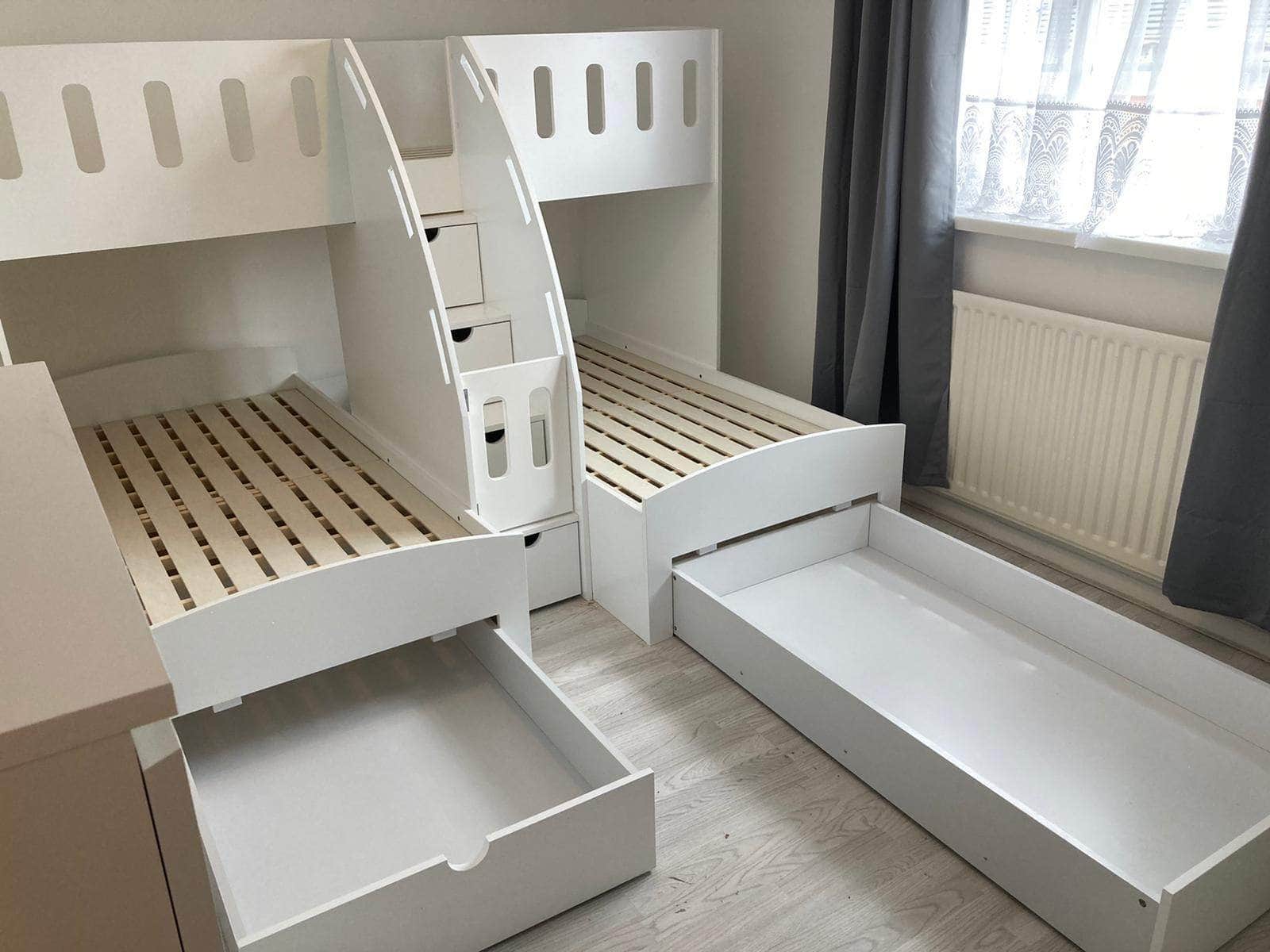 Check out the latest Triple Sleepers
If you want all your bunk bed needs to be fulfilled in a single place, then you are on the right platform. Mk furnishings is a modern bunk bed store where you can shop multiple types of bunk beds at a reasonable cost. We usually deal in a princess bunk bed, bespoke kids beds, mid sleeper bunk beds, bunk beds for kids, and shorty bunk beds. Our brand is notable because we provide all the customizations including assembly of the bed feature, bed color, cutouts selection, stairs, drawers, and their colors. We have been working for a long time in this domain and dozens of satisfied clients all around the UK.
Below we are going to have a brief look at what we provide.
Princess Bunk Bed Collection:
If you want your princesses to enjoy a good sleep on a comfortable princess-themed bed, then our princess bunk bed category can be a good option for you. This is the best option if you want to treat your baby girl like a princess. You can customize the theme of the bed according to your girl's favorite color, stars, or any other thing which your daughter dreams of.
Now a days, every girl wants to live her life like a princess, hence gifting them a beautiful royal theme princess high sleeper bed can be very adorable for her. These beds are specially designed considering elegancy, safety, and smart use of all the space. Comfort is our uttermost priority for which we use high-quality materials so that your girls can have a good sleep for an energetic day. In this category, we also provide princess high sleeper bed and princess castle bed on your demand. To view, our collection of princess bunk bed or princess castle bed do visit our themed bed section.
Bespoke bunk beds:
If you have congested space or want a bund bed of custom dimensions, then do not worry we also provide bespoke bunk beds. These custom bunk beds are a great option for you if you want each dimension of the bed according to your choice like shorty bunk beds etc. Custom bunk beds are considered a little premium because of being stylish and blend of the other beds. But the premium custom made bunk beds cost, you will surely get in return in form of luxury and style. So, to get yours' now, just visit the relevant section on our website for more details about custom made bunk beds. We will try our best to provide you a bespoke kids beds at a reasonable cost.
Themed Bunk beds:
To make the room of your kids even more attractive, you can explore the themed bunk beds option we offer. Every kid has their own imagination, then suppose if you will be able to get translated that imagination into a bunk bed for him, how much he will feel lucky. This section was introduced just because of the idea to get the dreams of your kids' portrait in their themed bunk beds. One thing you need to note that the theme of the bed should be carefully selected because you cannot change it again. So be careful to select the theme which your kid wanted truly.
You can also select the theme on your own based on your kid's perception and gift that bunk bed to them on his birthday. This will be an amazing birthday gift which you will never regret. The themed bunk beds we provide are made from high quality material by our skilled workers to get the exact stimulation of your kid's ideas translated on the bed. Go and check out themed bunk beds section now to order your bed.
Mid sleeper bed with stairs:
Last but not the least, we are going to talk about the description of mid sleeper bed with stairs. These are one of their kind. They are exclusively made for the primary aged kids who are growing and learning new skills. Mid sleeper with stairs is perfect for the kids which need more space for their activities as this bed provides ample space. This bed provides a good middle size between a normal bed and a high sleeper bed. It provides fun and flexibility higher than a normal bed yet being safe for the kids.
Mid sleeper bunk beds need to be considered which you have a premium space available. This bed can have a wardrobe or study desk incorporated into it. You can have heart cutouts or other decorative edges depending upon your choice. Mid sleeper with stairs is a totally elegant masterpiece that can make your kid's room magical. These beds are designed to last long and perfect for sleepovers.
Our highlights
We are one of few brands which focus on making customers instead of just short-term profit. That is why we provide premium products along with customer services for your satisfaction. Our agents are always able to respond to your queries, tackle procedural issues, and provide other customer support services free of cost. We have hired customer agents who are highly trained to handle customer issues.
Along with the premium products, we charge very reasonable prices for the bunk beds for kids. Along with the discounted prices as compared to the market, we also focus on providing such payment methods which are easy to access. We cover all the Ireland and UK deliveries including the fitting of the beds. We follow all the safety regulations advised by officials to ensure the safety of our products. We used excellent quality moisture resistant engineered board for the bed's production. We use premium delivery services so you can get your product as soon as possible. Along with the express delivery, we also provide a solid refund policy to get yourself secured. For the details of the delivery timings and refund policy, feel free to visit the respective section to get more details.
Bespoke kids beds
We have an excellent list of beds available, from double bunks, triple sleepers or quad beds. These can be then customised to suit your room and style
Delivery & Assembly Available
Sit back and let MK Furnishings do the complete job, from your first order, to designing, creation, delivering and assembling your dream bed. We do it all with our own team of fitters.
UK & Ireland Based, here for you.
We are based in Northern Ireland. Meaning we can offer our products to customers all over the UK and Ireland.