Welcome to MK Furnishings 
Choose from the Categories below
Check out
the latest range of Double & Single beds
Check out the latest range of themed beds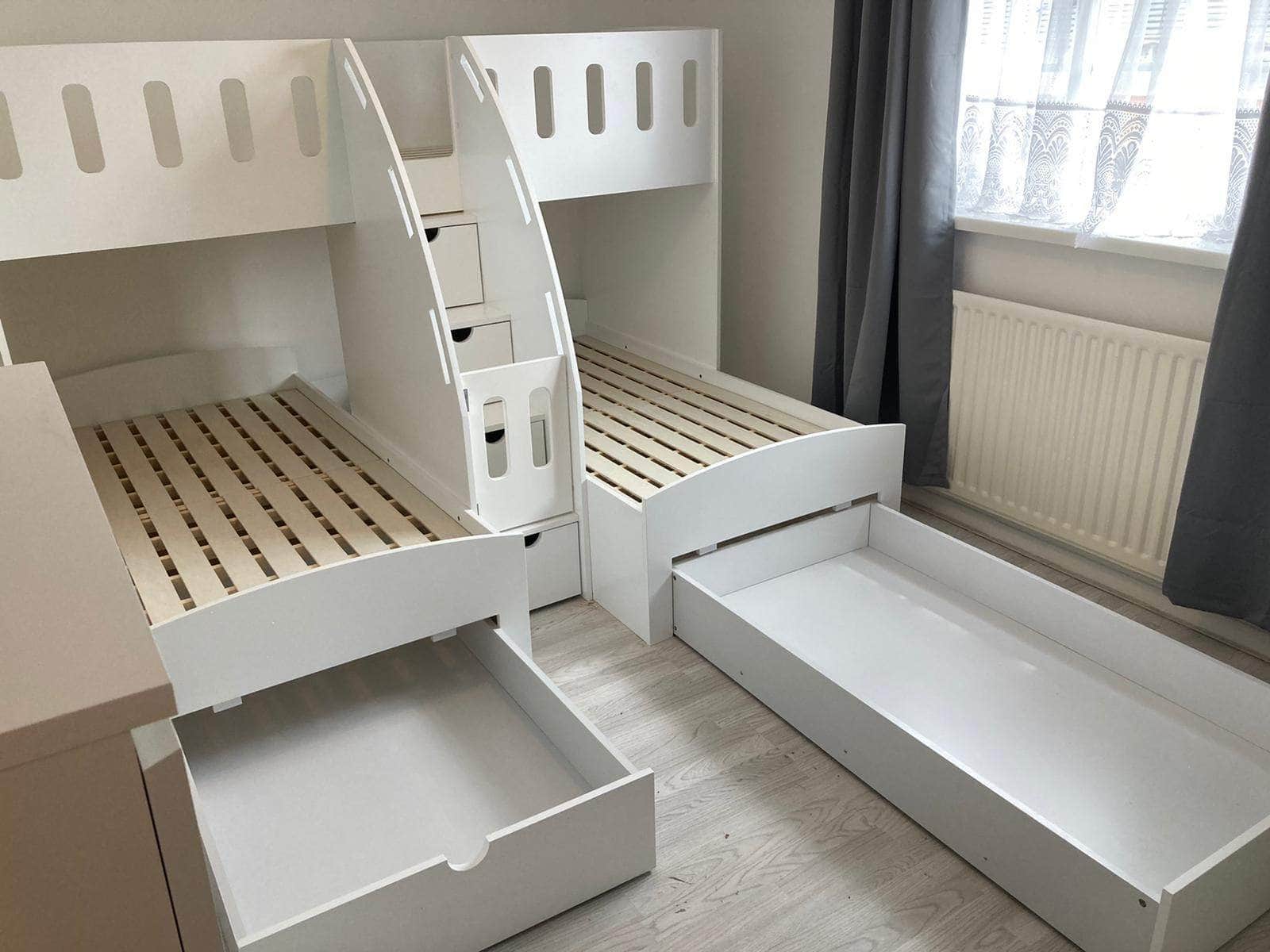 Check out the latest Triple Sleepers
There are many types of beds for children that are going to have different styles and structures. With that said, the one thing that parents want the most is to find a bed for their child that is comfortable and durable. Be it single beds, cabin beds or bunk beds, quality is the one factor that is truly essential.
Complex structures that simplify your life
There are some cases when people have 3 children in one room and they are doing all they can to maximize that space while ensuring that their children are going to be comfortable. This is not an easy task, but the search can be fast if you look for us to get the results you want.
Our triple bunk beds have become extremely popular for parents all over the UK due to the convenience that they provide. This is definitely one of the most useful types of beds for anyone that has 3 children and not enough space in a room for 3 separate beds.
We have created the best triple bund beds Uk that you could ever find and this is one of the reasons why we are seen as the best option in the industry. When it comes to putting beds for sale, we are the ones that give our customers the best for a cost-effective price.
We pride ourselves in being the type of business that pays close attention to detail and we are constantly looking for ways to upgrade our business. One of the main reasons why we are constantly working on providing the best prices and service is due to the high demand and the competitive niche.
Our business is to excel at what we do and we know that we have been the ultimate provider of bunk beds with storage as well as high sleeper beds, and childrens cabin beds. We are fully dedicated to this process and this is something that we see as a priority at all times.
Your child deserve comfort
We mentioned earlier that parents always want to ensure comfort as the most important feature for their purchase and this is followed by durability. If those two aspects of a kid's bed are met, the client is going to be willing to pay a reasonable price.
At MK furnishings, we know that price is also important and we combine comfort and durability with a very accommodating price tag. This is one of the main reasons why we are so invested in the process of ensuring that we can provide the highest quality without having to charge prices that are not going to be accessible.
If we are talking about bunk beds, outside of the comfort and quality factor, there is nothing more valuable than how practical they are and how much space they help save.
Beds with stairs and steps
Our team has always believed in the importance of providing as many options as possible. This way parents can decide what kind of beds are going to be ideal for their children. Kids bunk beds with stairs have become one of the most requested item all over the UK. The same happens with kids bunk beds with steps.
The main thing that seems to be very appealing about this type of bed is that a large number of people are making use of them. This is great because beds with stairs and steps allow children to reach the top bunk with ease, but parents always want to ensure that these beds are going to be safe for their children to use.
We know what you want and we always deliver
The biggest goal for us has always been to deliver what our customers expect and to go beyond expectations. This continues to be our priority and we are always going to aim towards that goal.
We can give our customers peace of mind when they decide to purchase any of our kids bunk beds. We can provide bunk beds with storage, white bunk beds, high sleeper beds, and a whole range of other styles for those who have specific needs for their children.
The most common issue that we find with parents is that they have no idea what type of bed to choose for their children. At MK furnishings, we are more than happy to provide guidance based on your needs.
Our team works hard to create impeccable beds
We believe in creating beds that are going to be impeccable in their design and structure. This is the reason why we can separate ourselves from the rest and we continue to provide the kind of service that truly makes a difference for parents all over the UK who are looking to get the best beds for their children.
You can think of us as the ultimate solution that provides everything you could ever need when you are looking to buy that first bed for your child or to upgrade to a better and more comfortable bed.
We have been around long enough to understand that customer satisfaction is always going to be the ticket to a long lasting business. MK furnishings continues to work hard to ensure that every customer is always going to feel that this is the best decisions they could have made in regards to the furniture that they purchase for their children.
It's always important to be able to create something that is above and beyond what people expect. We are fully committed to making sure that this is what happens with every bed sold.
We feel that every single bed that we sell is like a banner that represents who we are and what we do. That is why we dedicate a large amount of time to the process of ensuring the best results in every aspect of our business.
If you are looking for the highest quality with prices that are accessible, you will find that we offer exactly what you need when it comes to kids bunk beds. Be sure to send us a message if you have any questions about our services and our selection of beds.
Bespoke kids beds
We have a fantstic range of kids beds available, double and single bunk beds, triple bunk beds, single bunk beds.
Delivery & Assembly Available
Sit back and let MK Furnishings do the work, from your initial order, keeping you up to date come the time of delivery, delivering and assembling your childs dream bunk bed. We do it all .
UK & Ireland Based, here for you.
We're entirely UK & Ireland  based so you can rest assured you will always receive the best service, expert advice, quick delivery and value for money.